Colorado Digital Repeater Network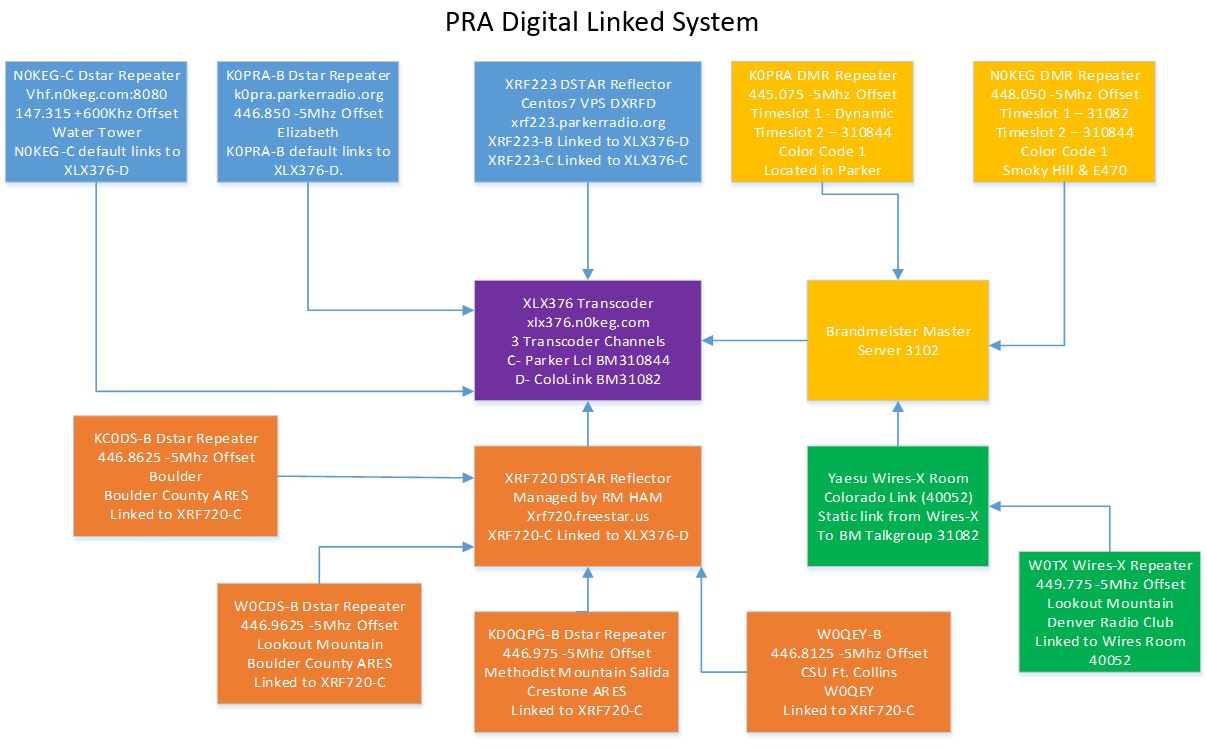 Reflector Dashboards:
XRF223 DExtra Reflector: http://xrf223.parkerradio.org/
XRF720 DExtra Reflector: http://xrf720.freestar.us/
YSF Reflector: http://cartradioysf.ae2l.net/
XLX Transcoder: http://xlx376.parkerradio.org/
DMR Talkgroup 31082: https://brandmeister.network/?page=lh&DestinationID=31082
Repeater Dashboards:
K0PRA DStar Repeater (Franktown – offline for tower repair): http://k0pra.parkerradio.org/
N0KEG DStar Repeater (Centennial Airport): http://vhf.n0keg.com:8080/
N0KEG DMR Repeater (Smoky Hill): http://uhf.n0keg.com:8081/
N0KEG DMR Repeater (Experimental – Parker): http://hs.n0keg.com/
KC0DS DStar Repeater: http://kc0ds.gw.ircddb.net/
W0QEY DStar Repeater: http://w0qey.gw.ircddb.net/
K0PRA DMR Repeater Brandmesiter Dashboard: https://brandmeister.network/?page=repeater&id=310844
Link Methods
Depending on your hardware, you can link into the Colorado digital system via several different options.
DStar:
DExtra (XRF) linking is supported via XRF223-B and XRF720-C.
DPlus, DCS and DExtra linking is supported into the transcoder on module D (REF376, DCS376 or XRF376).  If linking directly to the XLX server via DStar, DCS is recommended.  XRF has issues with certain hotspot devices.
Any DStar repeater that supports dynamic linking on the IRCDDB and Freestar networks can be linked to DCS376, XRF223 or XRF720 for access.
If you'd like to do a reflector to reflector link, this is supported via XRF or XLX on the XLX376 server.  Please contact N0KEG for details.
DMR:
Link via Brandmeister master servers and use talkgroup 31082.
If your hotspot supports XLX master servers, you can link directly into XLX376 and transmit on TG6 to access the system.
Some Brandmeister connected repeaters such as the PRA machine will have dynamic access on timeslot 1.  Attach that timeslot to Talk Group 31082 for access to the linked system.
Wires-X:
Access the linked system via room 40052
PLEASE ONLY LINK ONE DEVICE PER FREQUENCY INTO THE SYSTEM.  LINKING MULTIPLE DEVICES ON THE SAME FREQUENCY CAN CAUSE LOOPS!  WE'LL SEE YOUR CALLSIGN KEEP RE-KEYING THE SYSTEM AND WE'LL ALL POINT AND LAUGH AT YOU! 🙂